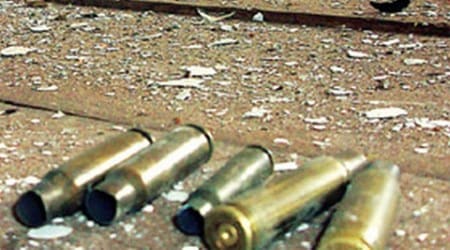 Sukma: 3 CRPF men killed in encounter with Maoists
&nbsp&nbsp&nbsp&nbsp&nbsp&nbsp&nbsp&nbsp&nbsp&nbsp&nbsp&nbsp&nbsp&nbspOfficials said while two commandos, identified as constables Linju N and Fateh Singh had succumbed to their bullet injuries on Thursday, their collegaue Lakshman Singh died on Friday..
Three CRPF personnel have been killed and 13 others injured in a fierce encounter, which lasted more than 24 hours, between security forces and Maoists in Kishtaram of Chattisgarh's Sukma district. The encounter ended Friday afternoon.
Senior police officers said of the 13 injured, at least seven have serious injuries. While the Maoists also suffered some casualties and injuries, no bodies could be recovered, given the injuries suffered by the security forces and the primacy attached to saving their lives, the officers added.
The police said that on March 1, 159 personnel of the CRPF's COBRA unit, from the 208 battalion, entered the Dabbamarka forests, along with 30 members of Sukma Police's District Reserve Group based on intelligence inputs. "On March 3, when they were on their way back, they were attacked by a military company of Naxals, who attempted to corner the police team. In the initial firing, one jawan Rajveer Singh was injured. The attack took place about 14 km from the nearest camp in Kishtaram," said D M Awasthi, Special DG, Anti-Naxal Operations.
Under constant fire, the COBRA team attempted to make their way back to the Kishtaram camp. "They managed to travel 7 km to Potakpalli village, still deep in the jungles. By this time, all the other injuries had taken place, with two men collapsing. A call had to be taken whether to risk travelling again at night, under fire, or stay at the camp despite the injuries. If they had moved, they would have opened themselves to more fire and possible casualties, so they were asked to stay at Potakpalli. With the constant fire and the chance of the use of an anti-aircraft weapon by the Naxals, there was no way a chopper could land safely," a senior officer said.
A total of 290 personnel — 180 from the DRG and STF, and 110 from the CRPF COBRA 208 battalion from Bhejji and Khamam — were sent as reinforcements in the morning, with 300 more on standby. "As these teams reached Potakpalli, they, too, came under fire in the morning. But the strategy worked. Because of the numbers, there was no further casualty, and the teams were brought back to Kishtaram by 3 in the afternoon and the injured flown to Raipur for further attention," Awasthi said.
Officers indicated that according to their estimation, the Maoist military company included Savitri, Kishtaram divisional commander, as well as Hidma, the company commander. "They were a team of at least a hundred, well armed with automatic weapons and geographical advantage with knowledge of topography. We believe they have also had casualties but the bodies could not be recovered," an officer, who was part of the operation, said.
The CRPF men who died have been identified as Jaju N S, Fateh Singh Kaduppa, and Lakshman Singh. Of the injured, 12 are CRPF personnel while one is a DRG constable.
Related News